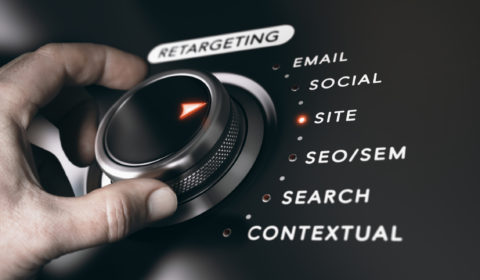 Have you ever visited a website and then ads about what you looked at appear on your browser?  This is an example of retargeting.  The strategy of retargeting has level set the field for brands.  It enables even the smallest of brands to more effectively compete with large competitors.  Retargeting keeps your brand in front of a self-directed prospect and increases the chances of their moving further down the funnel.  We know that a visit to your website does not typically convert.  In fact, only about 2% of first time visitors convert but by retargeting to those visitors you're:
increasing brand familiarity with people who have already expressed interest
honing your message to demonstrate your value proposition
accelerating their move down the funnel
You'll want to consider how your retargeting works on different devices.  From a desktop, retargeting relies on cookies and tags.  These cookies and tags enable you to track browsing behavior but don't allow tracking of any personal information.  You can also use uploaded lists to your retargeting program.  The upside is that you're able to track behaviors based on email addresses but this does require more maintenance of lists which must be updated regularly.
Mobile retargeting is a little tricky because mobile devices do not use cookies.  Instead it tracks multiple non-personal data points like IP addresses, location, device types, etc. and uses an algorithm to accurately identify the target audience.
As with every marketing tactic we discuss, understand your why.   There are six types of retargeting – CRM (list), Search, Web Site, Email, Mobile, and Dynamic.  Before you even choose the retargeting method that is most appropriate, you'll want to understand what you're trying to accomplish.  Are you trying to:
nudge prior visitors to explore more?
Increase your brand awareness?
reinforce your value proposition?
sell value-add products or services?
Answers to those questions will help you identify which type of retargeting is best for you.  Retargeting isn't a one and done tactic.  You should consider retargeting as a long-term marketing strategy and part of your overall marketing plan.  There are many unseen, backend steps associated with retargeting, so if you're making a commitment to using this strategy you should understand the time investment associated with it.
In the end, retargeting can be incredibly powerful.  It provides you with a platform to re-engage, personalize, and convert your target prospect.
When you want conversion – map your plan.